Nevada and film panoramas, by Sean Megna


"I feel like I function much better if I get a few hours in the darkroom every week"
---
Tell us about yourself.
I'm turning 30 this month. I grew up right outside of Boston in Marlborough MA. I also lived in Boston for six years before moving to Brooklyn were I met my Fiancée, Dawn. Dawn is from Las Vegas and as we were both rapidly running out of money living in Brooklyn we moved out to Las Vegas. Since we moved to Las Vegas I've become a butcher. At the butcher shop I make a lot of Charcuterie, pates, prosciutto, salami and cured meats. I love the process and alchemy of preserving meat, it's akin to the process of photography and I'm incredibly lucky that I get to be creative at work.


Mountain's Edge Master Planned Community. Las Vegas, NV.
When and how did the film journey begin for you?
The journey of film started very early for me, around seventh grade. I would read about Robbert Cappa and instantly became obsessed with the Magnum photo group and I fantasized about traveling the world photographing or going on road trips across the country like Robbert Frank or Stephen Shore.

Suburban Tide Pools, Upper Las Vegas Wash System. North Las Vegas, NV.
My favorite photographer by far is Robbert Adams. There are a lot of famous Roberts' in the history of photography. He has photographed the suburbs of Colorado and much of the American West since the seventies. I was obsessed with cameras at the beginning of high school and I still stop every time I see a yard sale in the hope that someone is getting rid of a camera that a relative had carried in the past. I was very outgoing but also an awkward person. I learned early that I could carry a camera to hide behind, and then I never put it down.
What camera makes you click?
The camera I use now is a Chamonix wood and titanium folding 4x5 inch view camera. It's light so I can carry it with ten film holders a light meter and a purple yoga towel for a dark cloth. I also use a Horseman monorail camera but the camera with its box and equipment weigh about 20lbs together. When I take it out I always end up hiking up a big hill to get a better view. They both take the same 90mm lens, which is pretty wide for 4x5 format, but I like the point of view it gives you. It lets me show the ground coming up to my feet and I hope it makes the photograph feel like a diorama.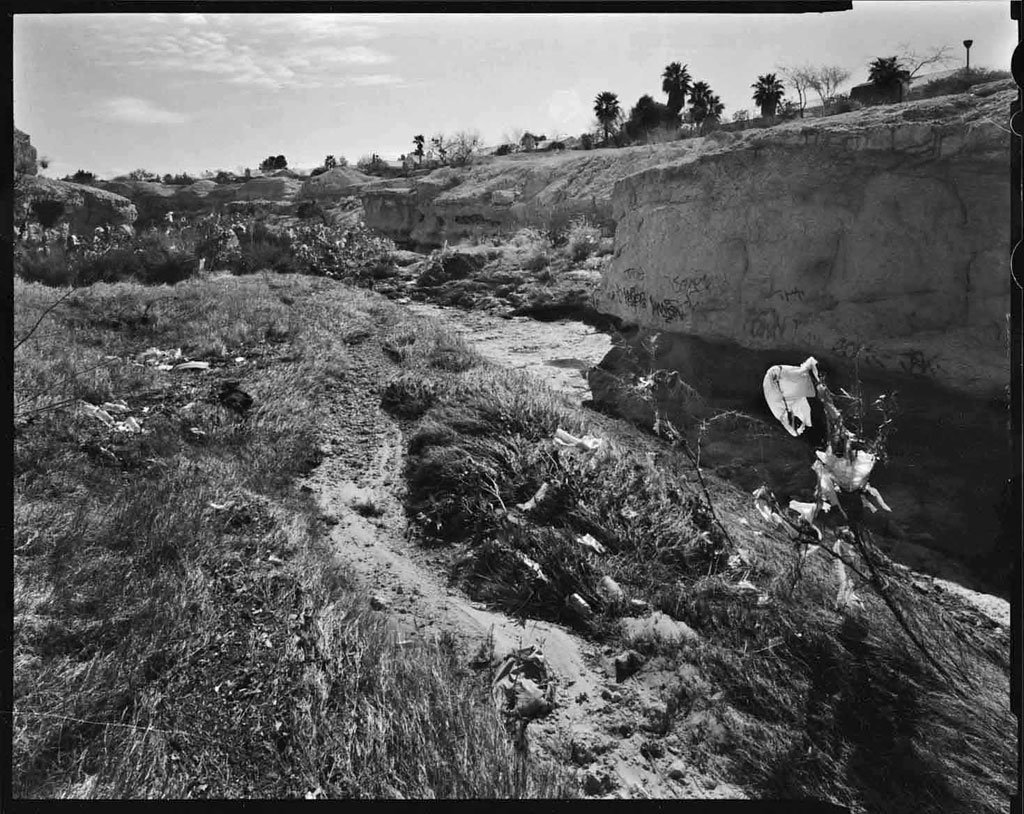 ​Upper Las Vegas Wash. North Las Vegas, NV
I also have a small army of 35mm cameras that I've been collecting since I was 14, a Hassleblad and a couple Polaroid land cameras. I love Walker Evan's Polaroid's. I hope I can wander around and take Polaroids like him when I'm an older man.
Between black and white and colour film which would you choose?
I prefer black and white because I love to print. Photography has always been a kind of escape and I feel like I function much better if I get a few hours in the darkroom every week. I do love color photography though.
I'm not a big fan of the flashy high gloss prints I see epoxied to fancy acrylic Plexiglas. To me there is something missing in all that detail. They just don't compare to Joel Sternfeld or Richard Misrach's 8x10 color photographs. There is less and less choice in film for large format these days but I find that Ilford HP5 does well in the harsh sunlight out here in the desert. You can push the film and under develop a little bit to flatten out the highlights.



​New Home Overlooking the Strip. Summerlin NV.
Tell us about your panoramas
When I started making panoramas I was doing it handheld with 35mm cameras to get pictures of my friends in cars or at concerts. That was before I phones back in the nineteen hundreds.
Then I started doing it with my Hasselblad to do time laps panoramas of neighborhoods surrounding Boston Harbor.
I would spend a lot of time adjusting the legs of the tripod so that it would spin level but it didn't always work. Now I have a cheat. It's a leveling head that goes under the normal tripod head so that it pans level. I use the panoramic format to get a view of what is around me. I remember being a little surprised to find out that Ansel Adams took some of my favorite photographs from the top of a station wagon. It doesn't take any value away from his photographs but I would be very interested to see what his surroundings were when he took some of those. The contrast of those iconic views against the road or parking lot you can view them from is an interesting juxtaposition.



New Street. Summerlin, NV.
Being from New England, Las Vegas as a built environment is can be a bit startling. Everything was built so rapidly here that it all looks very similar giving the suburbs a homogonous feel. I have described the city as "aggressively suburban." Housing communities go up so fast that construction companies will excavate acres of land only to go bankrupt and leave a big flat scar on it. This happened a lot at the beginning of the recession but now some bankrupt properties have been bought and development has re-started. The population of the city has nearly doubled since 1990 and it's growing today faster than it ever has. The largest project right now is the Summerlin Housing Community, 22,500 acres of upscale housing near the edge of Red Rock National Conservation area. Constriction is booming right now even though Lake Meade is at its lowest point in its lifetime. Drilling has just started on a third straw to get water from the lake if it goes below the 100ft mark.


View from the Employee Parking Garage at Harra's Casino. Las Vegas, NV.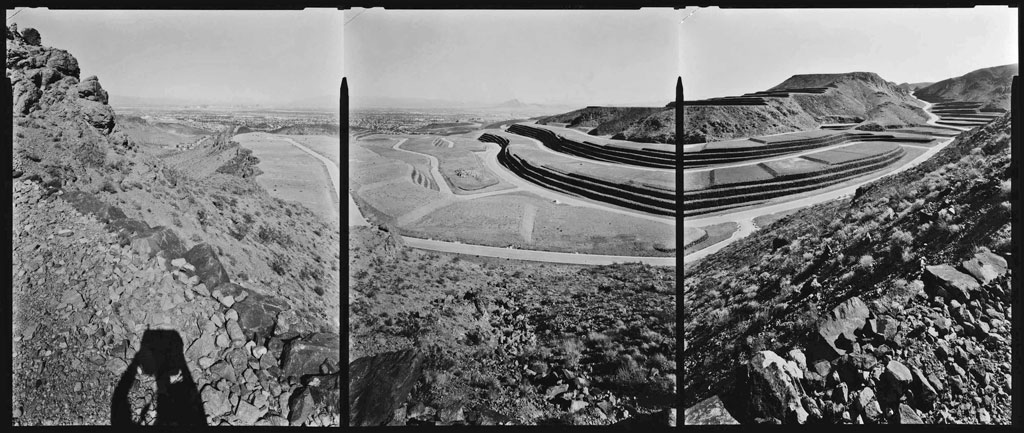 Ascaya Luxury Housing Plots. Henderson, NV.



​Village 16 Detention Basin, Abandoned Housing Community Project. Las Vegas, NV.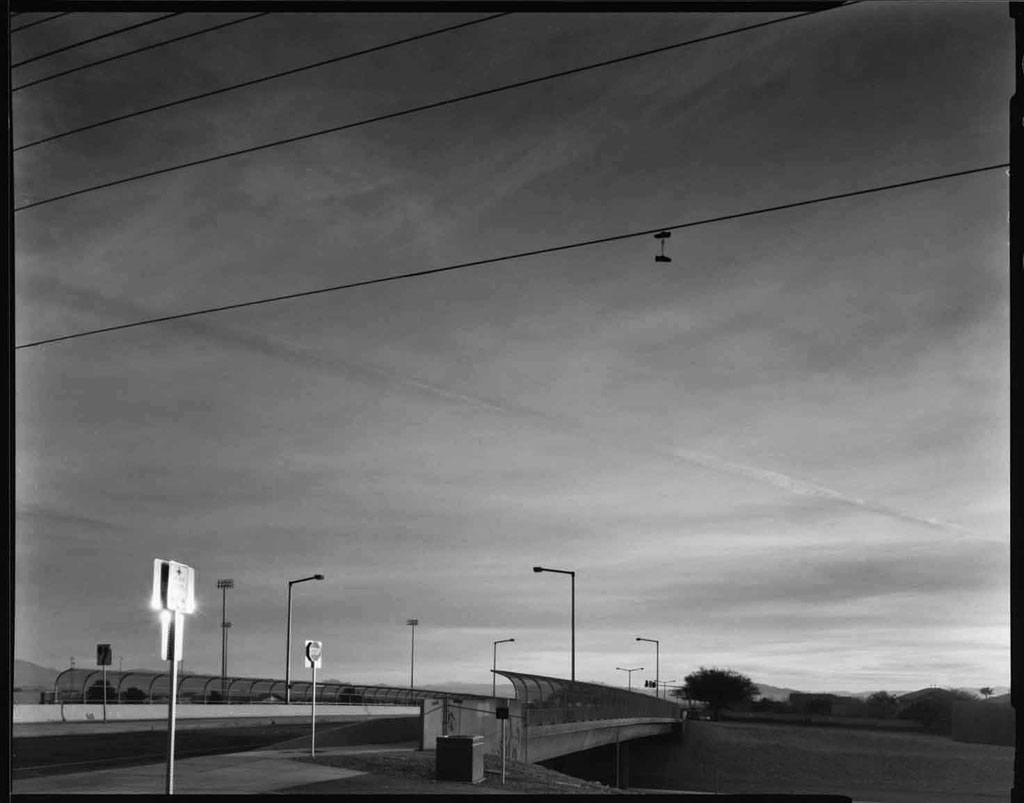 Alta Rd. Las Vegas, NV.



Lone Mountain Hiking Trail. Las Vegas, NV.
You can find Sean Megna here:
blindcarpenter.org