Mastering self-portraits by Angélique Boissière
I like to use always the same tools so that I don't have to think about it while shooting and to always get the same result.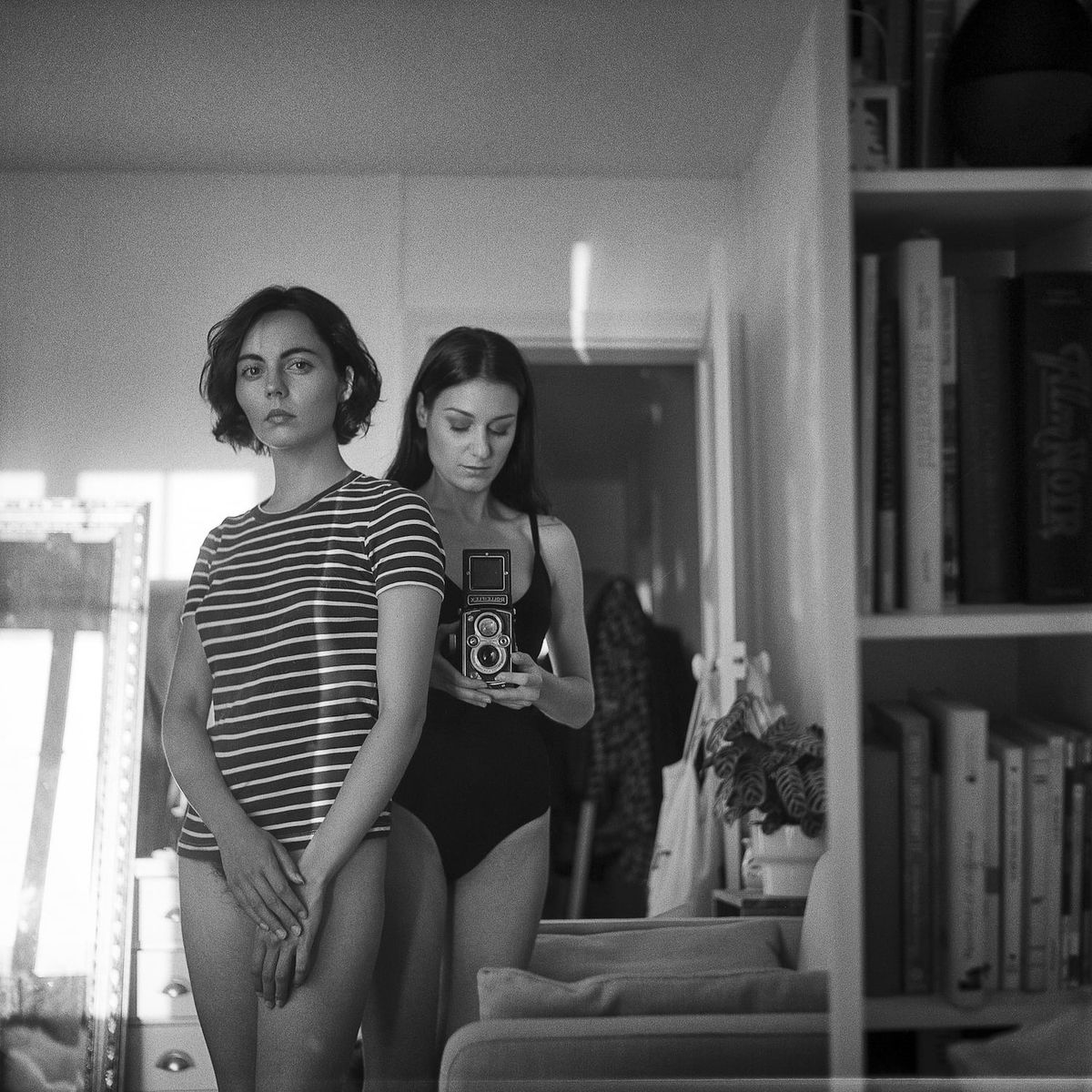 My name is Angélique, I am 28 years old, I'm french and I live in Nantes. I am a florist and have been a film photographer for 7 years. I mainly do portraits and nudes in a timeless, classic register.
When did you start shooting film photography?
I started to shoot film photography when I was a child. Because I was born in 1992,  at the time we still used only film cameras, and disposable cameras. It fascinated me. Then, when I was young I tried to shoot digital photos, but I didn't know what to say with this tool. It was too many photos for me, I was lost. I also took pictures of everything and nothing with a 35mm film camera, but I still couldn't express emotions. Then I posed for 4 years for different photographers to discover the photo from a different angle. That's how I discovered the medium format and large format which was a revelation for me. This is where I started the photo seriously, 6 years ago.
How did the idea of taking "selfies" on film came to you?
At the beginning, I started photography by making self-portraits. I was a teenager, and I only had myself, it was convenient. Even though I never really stopped doing it, I dropped that practice a bit when I started taking pictures of models. And then, following the release of my first book "Marées" and an intense professional conversion, I got myself with blank page syndrome, and also I no longer had time to shoot models. So I returned to the self-portrait then. It was a way to continue taking photos during this photographic truce where I had once again, only me on hand...
Taking a picture of myself had become a way of keeping a memory of a mood at a specific time, as a kind of retrospective of my life. It is both a baring, a means of introspection, but also a game between the real and the false, an endless questioning of identity where I reinvent myself through the construction / deconstruction of a character. What is interesting is not each self-portrait taken independently of each other, but rather the repetition of the exercise, because there are constants that emerge: symbols, poses, places, which become recurrent…
Do you shoot film selfies on colour film?
I've always been much more comfortable with black and white. When I imagine my photos I always structure them in monochrome in my head. It allows me to focus on the essentials. It has this elegant and minimalist universal side that I like. In addition, film and color development are more expensive. I've done some in the past, but today I don't use color film at all, either with my models or for self-portraits.
Do you develop by yourself, or did you ever?
I develop myself but only black and white, then I scan my negatives and process them digitally. It mainly consists in adjusting the light, the contrasts and the sharpness, as we could do on silver prints, but much simpler and cheaper…
How did you choose your camera?
Reliability, easeness, cheap price! I have a crush on the Bronica, but its reliability is not high, so I shoot with a Rolleiflex and a Pentax 67 which are faithful companions over time.
I like to use always the same tools so that I don't have to think about it while shooting and to always get the same result.
What's you favourite film?
Kodak tri-x combined with kodak xtol.
Find out more about her awesome work below:
Instagram: https://www.instagram.com/angeliqueboissiere/
Website : https://www.angeliqueb.com
Facebook : https://www.facebook.com/boissiere.angelique/